Welcome at the Pahrump Car Show 2018
Vehicle registration/pre-registration for the show is open to everyone, welcome everyone!
PCS2018 Latest news alert!
WE PUSHED THE DEADLINE FOR PRE REGISTRATION TO SEPTEMBER 30th! Don't miss it!
SUNDAY OCTOBER 7th 2018 at 11am-12:00 noon LIVE AUCTION!!!
Auction will be conducted by "Ski" The Auctioneer
A Special Sponsor's Choice; One of the registered vehicle will be awarded a Complete Paint Kit (liquids), All Free!
Family friendly; Games and activities for all ages will hit PCS 2018!
Nevada's Gunfighters' to perform on Saturday, October 6th 2018 for your enjoyment!
Stay with your RV; We can help! Large RV parking spaces will be available.
Lodging and accomodations
Greetings fellow cars lovers!

We, at Top Notch Repairs, hope you are doing great!

Are you wondering where to lodge or park your RV while attending the Pahrump Car Show 2018? Stop worrying right now! Because we have you covered!

We are set up to provide lodging in Las Vegas Nevada to our guests. We want you to spend a tremendous week-end with us; a pleasant and worry-free one! Please note that we will also have RV spaces available.

Further information will be provided by email, ask us @ pahrumpcarshow@gmail.com !
Are you going to be part of the show? Because we sure have a spot for you!

Thankfully yours, Top Notch Repairs and the Pahrump Car Show
Registration is LIVE
Ladies and gentlemen, registration is open to everyone!
Click here to register your vehicle(s) to the Pahrump Car Show 2018.




Alternatively, you can click the following link to open a printable PDF file of the Pahrump Car Show 2018 Participant Registration Form.

Pre-registration deadline is September 30th 2018!
There are still spots available, register now online or at the shop!
Robert Shield Master Glass blower
An interesting feature this year : Master Robert Shield and his Studio Royal Glass international academy.

How much do you know about glass blowing? Master Robert will be there and will perform live demonstrations at the show! Are you curious as we are?


Aaron Pax Taylor and The Crossroads Band will perform at the Pahrump Car Show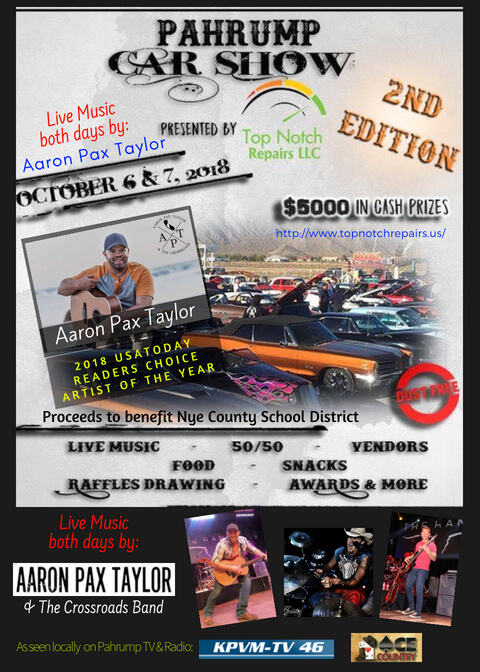 Artist of the year country sensation Aaron Pax Taylor and The Crossroads Band will entertain the crowd on October 6th and 7th 2018 at the Pahrump Car Show. They will favor your ears with the sound of their very own songs and also covers of some of the best country pieces of all time! Thanks Aaron & The Crossroads for your upcoming performance! And welcome everybody!
Click here to visit the official facebook page.
A message from the organizers
Good day everyone! Since you've responded so well to our invitation for the Pahrump Car Show 2017, we are now looking forward the future and shifting into prep gear for the 2018 edition!

We've heard and listened to all your comments about the show. According to that, the show was a huge success, even called by some "the best car show that Pahrump has seen". Except for the one thing: The dust!

We were caught a bit off-guard about the amount of attendees and cars and parking spaces needed; the show went beyond our best expectations for a first timer. Therefore, we want to assure you, the dust won't be a problem at the Pahrump Car Show 2018.

Until more informations come in about the 2018 event, please don't hesitate to contact us:
The one and only email address
Our phone number (775) 751-1007.

Thank you for your support!
-Top Notch Repairs and the crew
Official flyer of the Pahrump Car Show 2018
The flyer for the Pahrump Car Show 2018 Second Edition is shown below. Share it with your friends!